Biography

ABOUT THE ARTIST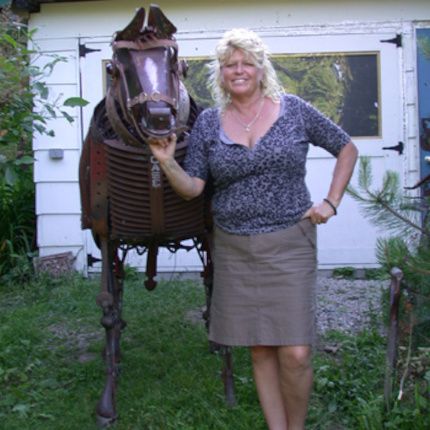 A good day consists of a trip to the local landfill site and finding that one key piece to start a sculpture. Then Iím off and running. It may take me only moments, or many months to discover what the fate of that piece is to become, and then I dive right into the project and only then can I fulfill its destiny.
I like to keep the integrity of the original metal so you can recognize the components but see the transformation of pieces of metal into whimsical characters and animals with individual personalities. The shape of these pieces will often show what it is meant to become, while other times I start with an idea and then find the pieces that satisfy the intent. In this way, creating a piece becomes an interplay between my mental images and the scrap pile.
With the sparks flying whether Iím cutting or welding the pieces together gives me a feeling of absolute power and exhilaration. The work encompasses all of my creativity, and charges up my artistic energies. When my creative force is flowing, I donít stop till completion.
Working with this discarded metal gives me a glimpse of the past . I give it life again when it no longer serves itís original purpose. I love blurring the lines between organic and mechanical forms when creating a piece. As an artist I am able to appreciate and be inspired by the shape, colour, and texture of ordinary things others would overlook or dismiss as uninteresting.
Today I am thrilled to fulfill my dream of creating these sculptures and incorporating glass to accentuate various pieces. My love of the challenge drives me to create yet more complex pieces as time goes on.
My sons play an integral part in my art. Phoenix has a flair with the plasma cutter creating intricate designs, while Wayland is my MIG man and a constant source of ideas and rivalry over parts in the shop. We combine what our imaginations envision to create these extensions of ourselves.