Links & Info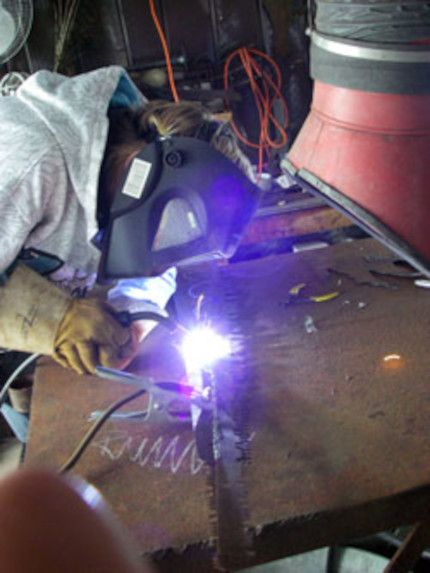 Ruta appeared on national television in the programme "Hands Over Time" produced by TV Ontario in 1989 showing off her welding talents. Ever since then she has kept her hand on the whip honing her craft.

Here are some links to information about the artist.

Video interview (1) on Daytime a local production of Rogers Cable.
Video interview (2) on Daytime a local production of Rogers Cable.

Her first big TORONTO show was at the Ben Navee Gallery!

Ruta was nominated in the emerging artist category of 2009 at the Owen Sound Cultural Awards.

An article that appeared in Mosaic a regional art & culture magazine.

Ruta's work was displayed at the One of A Kind Show.
While at the One of a Kind Show in Toronto, ON, Canadian Living Magazine was quite taken by her art and featured the fire pokers/garden stakes that she was selling in the July issue that year.

Ruta participated in a show to raise awareness about Georgian Bay history. Read more about the show here.

See Ruta's art featured at the Matilda Swanson Gallery.

A prominent feature at the Distillery Districts' Artfest in Toronto, ON was Casey her life sized War Horse. The crowds where drawn to him and none could resist a photo beside him.

Click to view video, "How to Make a Metal Horse" in the Distillery District in Toronto.

View photo of Ruta's "Night Mare," Casey.

Casey also appeared at the Tom Thomson Gallery in Owen Sound, ON during the Otherfolk Festival at the end of August 2011.

Ruta is a member of CARFAC Ontario which is the association of professional visual and media artists.

Received a grant from the Ontario craft council in 2011 towards exhibition assistance.

Ruta was on Explore the Bruce, a site that provides information on local tourist attractions.

You can also find Ruta's information on Shop Owen Sound.

Once again she appeared on Rogers Daytime TV and Grey County Living with Dave Carr and Diane Foulds to update the community of her activities. In December Casey had his own float promoting West Rock Art Metal at Owen Sound, ON Santa Clause Parade in 2011.

Ruta is a member at The Artists' Co-op in Oen Sound.

Ruta is the Coolest junkyard artist!

---